Technics SL-DZ1200 DJ CD Players or Digital Turntables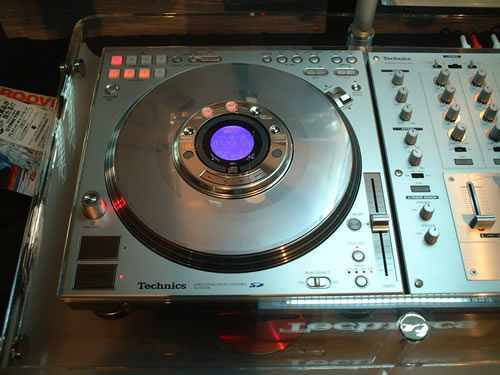 Here's how I first learned about the new Technics SL-DZ1200 DJ CD player or digital turntable. I am casually surfing the net and I come across a site of a DJ that had visited the city I live in. While reading his blog, I come across the mention of this Technics turntable. I first think that it's a freaking joke but after googling around for a good hour gathering solid info, the reality hits me like a ton of brick… The new Technics SL-DZ 1200 single CD turntables are going to quickly become the new standards in CD DJing…
Let me give you some brief background about the new Technics SL-DZ 1200 DJ CD Players. They have been around in Japan for a long period of time which is quite normal because the company's headquarters are based there.
But these Technics digital players were unveiled to the rest of us at the PLASA that took place in the first days of September 2003. Needless to say that across the net, all DJs are giving their feedback like you cannot believe and most of it is positive besides the fact that no one has had a go at the decks (at the time of writing)
What is the big fuss about the Technics SL-DZ1200 DJ single CD Players
anyway?
Well, to make thing so basic and so simple so that everyone gets it, here's the scoop: you will be able to spin just as if you were using normal SL 1200 except that this time you will be playing CDs and using a 8-9″ platter to control the content of your CD.
For many of us who have been too stubborn to even try out CD DJing the Technics SL-DZ 1200 digital CD players might be the gear that convince us to try out the untested waters and "sell out" in the process! This thing makes me as excited as when I first came across the Final Scratch concept two years ago (btw: now this is a real threat to FS). This unit is rumoured to be selling for US $ 1000 upon release.
Update Dec 2003: the word on the street is that the Technics SL
DZ1200 tabletop CD players will be available for general purchase around
May 2004. Yikes! that's a long time to wait for this marvelous piece of DJ equipment. I'd heard from a semi-reliable source, that there were some defects which is probably the cause of the delay as Technics is prolly fixing them.
To be very honest, I don't know if these CD decks will dethrone (I hope this is an actual word) the Pioneers CDJ 1000 MKII. I guess that it's one of those "Let's wait and see!" moments.
Final comments… vinyl DJs! wether we like it or not, it's time to seriously pay attention to the exciting digital DJ world!
Here are Technics SL-DZ1200 decks' preliminary features
The 8-9″ platter, sits nicely between the regular CD platter sizeand full 12″ vinyl.
Manual cue point – you can set the start of the sample to a userspecifiable point on the platter
Vinyl simulation effects
Pitch Lock
Instant reverse/forward
Brake speed control
Real time recording – skratch up a storm and use it as a sample
Skratch from SD media
CDMP3 CDR CD
More Technics SL-DZ 1200 digital turntable pictures and related
Initial press release announcing the Technics SL-DZ1200 digital CD Players
"PLASA 2003 sees the UK launch of the SL-DZ1200 digital CD
turntable, featuring full scratch facility via direct drive platter, cue save, on-board sampling and looping, SD cue point save, auto cue load, vinyl simulation and more. Also on show is the SH-MZ1200 4-channel mixer with digital in/outs, plus the full SL1200 turntable range."